Hello readers,
Apologies for not posting in so long, I was preoccupied with university and other commitments but I'm back and in this post I am going to review the Oscar winning films of 2018 that I have seen.
Best Picture – The Shape of Water
This film by Guillermo Del Toro is a fantasy adventure set in the 1960s in Baltimore, US. It stars a mute women who cleans at a top secret government facility every night. They bring in a new asset, a humanoid fish creature that she becomes friendly with.
The film stars Sally Hawkins (Happy-Go-Lucky) as the mute cleaner Elisa, Octavia Spencer (Hidden Figures) plays her chatty and loyal fellow cleaner and friend Zelda, Richard Jenkins (The Visitor) plays Elisa's neighbour who is an artist and her best friend, Michael Shannon (Nocturnal Animals) plays the twisted man in charge and Michael Stuhlbarg (A Serious Man) plays a scientist who appears to be on Elisa's side.
The beautiful cinematography, soundtrack and acting in this film are what won it Best Picture at the Academy Awards. Personally, I think Call Me By Your Name or The Post should have won but The Shape of Water still deserved this win. 4/5.
Best Actor – Gary Oldman for Darkest Hour
Gary Oldman's performance as Sir Winston Churchill at the beginning of his reign as British Prime Minister during the Second World War was a well deserved recipient of this award. The makeup department did a great job making him look like Churchill but it was Oldman's mannerisms, voice, timing and overall ability that ultimately won him this Oscar.
Personally I think Timothée Chalamet for his role as Elio in Call Me Your Name was a potential winner as was Daniel Day-Lewis for his role in Phantom Thread. I have not seen Get Out which I have read is also deserving of every Oscar it was nominated for or Roman J. Israel, Esq.
Best Actress – Frances McDormand for Three Billboards Outside Ebbing, Missouri
Frances McDormand's performance was the best of this film. Her face held so many expressions that you could always tell her mood or what she was thinking even though she didn't vocalise it. The content of this film is hard to think about but is very much in our lives. McDormand's reactions to the other character's opinions on what happened to her daughter also show her emotions and she continues to fight for justice.
Personally I think this award could have gone to any of the other nominees: Sally Hawkins for The Shape of Water, Meryl Streep for The Post, Margot Robbie for I, Tonya or Saoirse Ronan for Lady Bird. I have not seen Lady Bird yet but I have heard many good things about the film, directed by Greta Gerwig. However, Frances McDormand did deserve to win.
Best Supporting Actor – Sam Rockwell for Three Billboards Outside Ebbing, Missouri
Sam Rockwell's performance as a racist cop who later redeems himself was award worthy. I am a fan of Rockwell's and he played this character with enough heart to make the audience sympathise with him even though some of the lines he says are very offensive. His care for his mother and McDormand's character also shows his softer side.
Personally  I think Woody Harrelson from Three Billboards as well or Richard Jenkins from The Shape of Water also gave winning performances. Willem Dafoe from The Florida Project was good but not of the same level and I have not seen All the Money in the World so I cannot comment on Christopher Plummer's performance.
Best Supporting Actress – Allison Janney for I, Tonya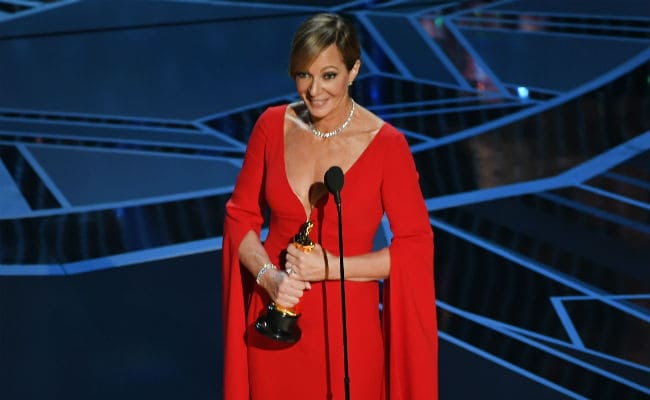 Allison Janney's performance as Lavona Harding, Tonya's abusive, pushy mother was definitely deserving of this award. Her blunt, perfectly timed delivery of her lines and her random acts of violence as Tonya's mother really gave Lavona life. Tonya's mother was a big influence on her success and character and she would not have had success without her.
Personally, I think Allison Janney was the best in her category but Octavia Spencer's performance was also brilliant as Zelda in The Shape of Water and Lesley Manville in Phantom Thread was also perfection. I have not seen Lady Bird or Mudbound.
Best Writing – Adapted Screenplay – James Ivory for Call Me By Your Name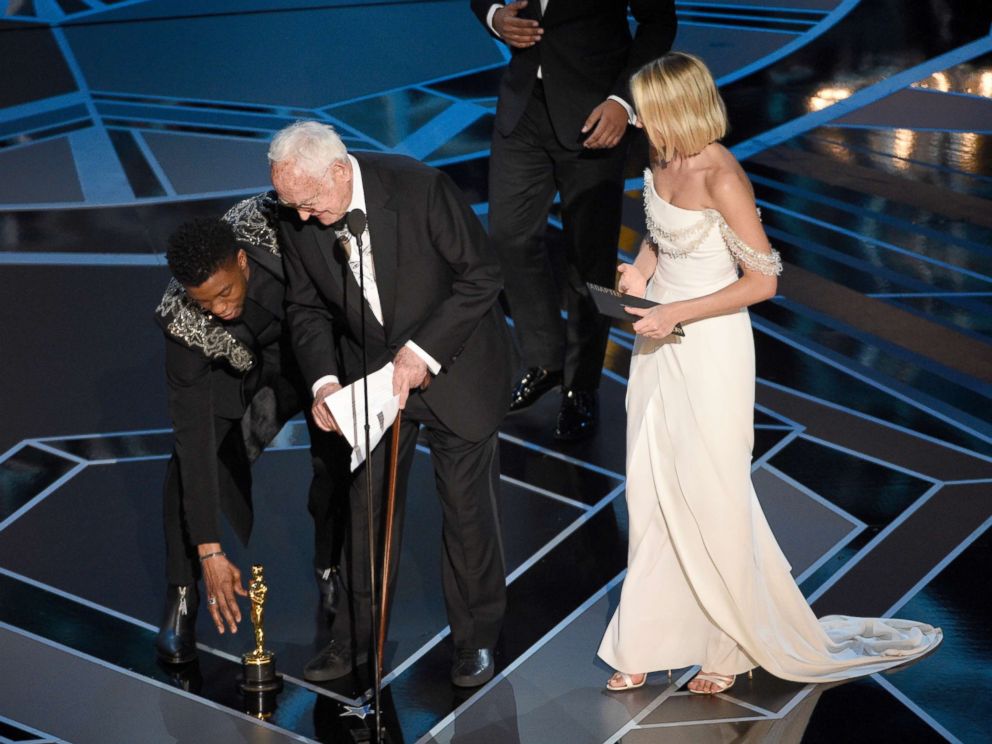 As you may have gathered, Call Me By Your Name is one of my favourite Oscar nominated films this year so I was really pleased that it won this award. The script of the film was one element that made Call Me Your Name a standout for me. The acting, cinematography and music was just as brilliant but the writing definitely made this film Oscar worthy. Elio and Oliver's gradual move from dislike to love was portrayed really well by Ivory as was what many people feel is the best scene of the film between Elio (Timothée Chalamet) and his father (Michael Stuhlbarg). The monologue Stuhlbarg delivers was inspiring to many audiences around the world.
Personally, I think Call Me Your Name deserved this win but Molly's Game and Logan were also brilliantly written and deserved greater recognition this year. I have not seen The Disaster Artist or Mudbound but have heard they were noteworthy.
Best Director – Guillermo Del Toro for The Shape of Water
Guillermo Del Toro did the directing, writing and producing for the Shape of Water, it was his vision. The actors in the film responded well to his direction and portrayed his vision accurately. I could tell it was a Guillermo Del Toro film because of the fantasy feeling and the mythical creature. Del Toro has worked hard in the industry for many years but this is his first Oscar. His other films have been in Spanish but this film was out of his comfort zone, dealing with communism in 1960s America and for that departure from his normal genre, he deserves this award.
I think The Shape of Water was the best in this category out of the two I have seen. Paul Thomas Anderson has also been in the industry for many years but yet to win an Academy Award. I have heard that Jordan Peele, Christopher Nolan and Great Gerwig were also all deserving.
Best Original Music Score – Alexandre Desplat for The Shape of Water
The score for The Shape of Water definitely helped emphasise the plot and added to the whole look and feel of the film. A soundtrack can really make or break a film and this one definitely helped it win Best Picture. Even though the film was set in Baltimore in the 1960s, the score along with the cinematography and acting helped transport you to a fantasy world in certain scenes.
The scores for Phantom Thread and Three Billboards Outside Ebbing, Missouri were also a great match for their films. I think The Shape of Water did deserve this win but I have not seen Dunkirk or Star Wars: The Last Jedi so I can't be sure.
Best Original Song – Kristen Anderson – Lopez, Robert Lopez for Remember Me from Coco
This song was a worthy winner and was pinnacle to the plot of Coco. It was sung as a lullaby and a more upbeat version at different points and both are beautiful. It is about remembering someone even after they have died or moved away. In Coco, the performance of this song by Miguel and Hector voiced by Anthony Gonzalez and Gael García Bernal respectively was a highlight of the film. Other notable songs from the soundtrack are Un Poco Loco and The World Es Mi Familia.
Personally I love the song 'This is Me' and the rest of the soundtrack from the Greatest Showman and the song 'Mystery of Love' from Call Me By Your Name was also beautiful but Remember Me was very well deserving and was an important for the Latino American community. I have not seen Mudbound or Marshall so I do not know how the songs nominated fit into the films.
Best Animated Feature Film – Lee Unkrich, Darla K. Anderson for Coco
Coco was a beautiful animated film. The attention to detail was crazy amazing especially in the afterlife. Disney/Pixar films have been getting better and better in recent years and Coco is definitely my favourite for a while. All the characters fit well into the story and even though there were quite a few, none of them were overshadowed. Miguel the main character, a 12 year old boy who wants to be a musician despite his family's history of no music, was a great character. Through his voice (Anthony Gonzalez) you could hear all his emotions. The film is centred around the Mexican celebration of the Day of the Dead and the songs on the soundtrack all have a Mexican feeling and some are in Spanish. I think this film is really important for Hollywood in the US' current political climate and the films itself was just amazing.
I have not seen any of the other nominees but Coco was a stand out film of the year and not just in the animated film category. Any child or adult would love this film.
Best Cinematography – Roger Deakins for Blade Runner 2049
While I did enjoy Blade Runner 2049 as a whole as much as others have, the cinematography was beautiful for this film. Some of it was Computer Generated Imagery (CGI) which some people in the cinematography community feel should not win but the other non-CGI parts were also brilliantly filmed. Roger Deakins himself has been in the business since the 1970s and this is only his first Oscar win despite working on great films such as Sid and Nancy, Fargo, A Beautiful Mind, and Sicario.  His win was well deserved and I am pleased that his talent has finally been recognised by the Academy.
The cinematography of The Shape of Water was one of the best parts of the film for me so I would not have minded if this film won and Darkest Hour also had award-deserving cinematography. Again I have not seen Dunkirk or Mudbound so I couldn't possibly comment, although I have heard that Dunkirk is a cinematic masterpiece.
Best Visual Effects – John Nelson, Paul Lambert, Richard R. Hoover, Gerd Nefzer for Blade Runner 2049 
The visual effects of Blade Runner 2049 were amazing and next level and even though I did not enjoy the plot so much, it did look stunning. The sunrises and sunsets were particularly wonderful and the colour palettes of orange and reds but also greens and blues was well thought out. I do not know much about visual effects but the film looked visually other worldly and futuristic which was the idea.
Personally, I think Guardians of the Galaxy Vol. 2 had better visual effects and CGI and considering two major characters are CGI, I think this film should have won but Blade Runner 2049 was a worthy winner. I have not seen the other nominees.
Best Costume Design – Mark Bridges for Phantom Thread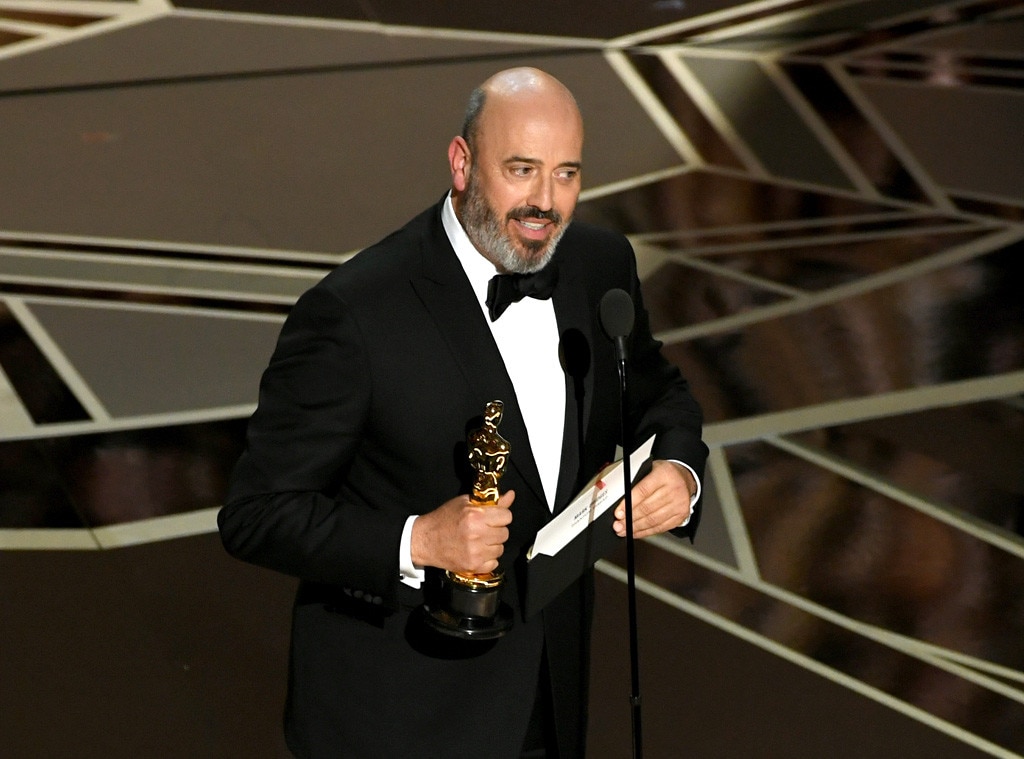 The costumes for this film was one of the best parts. The beautiful couture dresses that Reynolds creates from scratch are very important in the film and are breathtaking to look at. Mark Bridges was very deserving of this award. I would have loved to have worn a Woodcock dress.
Darkest Hour also had some wonderful period costumes, especially the women in Churchill's office and Churchill (Oldman) himself. The Shape of Water also had some very American outfits but I wouldn't have nominated them for this award. The outfits in Victoria and Abdul were also wonderful and fit for a queen like Victoria. I would have given the award to either Phantom Thread or Victoria and Abdul. I have not seen Beauty and the Beast but from photos the costumes do look very lovely.
Best Production Design – Paul D. Austerberry, Jeffrey A. Melvin, Shane Vieau for The Shape of Water
The production design of The Shape of Water was also amazing and transported you to the world of the film. Elisa and Giles' apartments were particularly well done as were Giles' drawings, the diner and the top secret government facility. The fact that Elisa lived above a cinema was a lovely added touch.
I think the Shape of Water was very deserving of this award. Blade Runner 2049 and Darkest Hour also had great sets, Darkest Hour particularly had some great 40s details. The Shape of Water did have the best production design in my opinion but I haven't seen Beauty and the Beast or Dunkirk.
Best Makeup and Hairstyling – Kazuhiro Tsuji, David Malinowski, Lucy Sibbick for Darkest Hour
The makeup and hair styling for Gary Oldman to transform him into Winston Churchill was definitely award worthy. Whilst watching the film I had to constantly remind myself that it was Gary Oldman and not Winston Churchill. It was a real accomplishment in prosthetic makeup and hair styling.
Victoria and Abdul also was a worthy contender as Judi Dench looked much older than she is and like a long-reigning queen. I have not seen Wonder but from pictures of the prosthetic makeup used on Jacob Tremblay who plays the main character Auggie (August), it was also worthy of this award.
And that's all folks!
This review contains all my own opinions and I have only reviewed the films I have seen. Another reason why this post was delayed is because I only saw the Shape of Water a few days ago and as it won four Academy Awards, I wanted to review it.
Anyway thank you for reading,
Happy Watching
Robyn 🙂