Hello again,
Now I know if any guys are reading this are thinking wow that title is sexist, then I have to agree but from the little male culture I understand, boys don't tend to watch these types of films on sleepovers. Instead they watch action or horrors. However if you are a guy and like any films mentioned please tell me in the comments. Anyway seeing as I am a girl and have been on many a girly sleepover here are my top ten film choices.
What Happens in Vegas (2008)
This rom-com starring Cameron Diaz and Ashton Kutcher is one of my all time favourites. It is set at first in Las Vegas where two strangers get crazy drunk and married then one of them wins $3 million on a slot machine and they are forced to be married for 6 months. Sounds simple right? It is although the twist is the two characters who got married whilst very drunk hate each other and have to live with each other for six months. I personally love hate-to- love stories which this definitely is. I also like the New York setting where they both live as its adds glamour. Lake Bell (No Escape) plays Diaz's best friend and Vegas buddy whereas Rob Corddry (also mentioned in my Weekly Recommendations) is Kutcher's friend (and lawyer). These two provide great comedy to the film as they also hate each other but with a burning passion. Jason Sudeikis (Horrible Bosses), Zach Galifianakis (The Hangover), Queen Latifah (Girls Trip) and Krysten Ritter (Jessica Jones) also star. Overall I think this movie is a classic for sleepovers and a good all round film if you need to believe in love again. Overall I rate What Happens in Vegas 5/5.
2. Angus, Thongs and Perfect Snogging (2008)
A great film based on a series of books by Louise Rennison. Georgia is just like any normal girl, she has friends, lives with her family and her cat and goes to school. Except she is far from it. Her sister Libby, believes herself to be cat, her actual cat Angus is an absolute mongrel, her parents argue all the time and the Sex God that has just moved to town has no awareness of her existence. Georgia charters her crazy life in her diary. This film starring Aaron Taylor-Johnson (Avengers: Age of Ultron) as Robbie the Sex God, Kimberley Nixon (Fresh Meat) as Georgia's enemy 'Wet Lindsay', Alan Davies (QI), Karen Taylor (The Sketch Show), Eleanor Tomlinson (Poldark) as Best Friend Jas and Georgia is played by Georgia Groome (London to Brighton) is one that will make you laugh out loud and close to tears. Most girls who have been or are teenagers can relate to the conversation Georgia has with her mates. She also dresses as a cocktail olive at the beginning so what's not to love? I have actually seen this film on a girly sleepover so it is definitely perfect for one. I have deducted one point for the fact that the ending would not happen in real life. No spoilers! Overall I give Angus, Thongs and Perfect Snogging 4/5.
3. Mean Girls (2004)
This film is seen as a classic by many, for its great cast, quotable lines and relatable story about wanting to fit in at high school. Lindsay Lohan plays Cady, a girl who has lived in Africa her whole life and is suddenly dropped into an American high school. For the first time in her life she has to worry about what she wears, who she associates with and her place in the social hierarchy. She in filtrates the most popular girl group in the school, the Plastics. They are made up of Regina George – The Queen Bee who rules the school and her minions – Gretchen, whose dad invented the Toaster Strudel and Karen, who is possibly "the dumbest girl you will ever meet".  Cady plans to ruin Regina's life but she soon becomes one of the Plastics. In between trying not to fall for Regina's gorgeous ex Aaron Samuels, get out of Mathletes run by Ms Norbury and remembering who her real friends are, Janice and Damian. This film is a must see for any teenager trying to navigate school. Joining Lohan in a great ensemble cast are Amanda Seyfried (Mamma Mia), Rachel McAdams (The Notebook), Lacey Chabert (Party of Five), Tina Fey (SNL), Amy Poehler (Parks and Recreation), Jonathan Bennett (Cheaper By The Dozen 2), Lizzy Caplan (Now You See Me 2) and Daniel Franzese (I Spit On Your Grave).
'That's so fetch! Gretchen, stop trying to make fetch happen! It's not going to happen!' A great film to see on a sleepover, you will quoting the script for months! Overall I rate Mean Girls 5/5.
4. She's the Man (2006)
Based loosely on the Shakespeare play 'Twelfth Night' this football film had great laughs and heart. Viola just wants to play football but her school cuts the girls teams she dresses as her brother and pretends to be him at his new school for two weeks while he cuts school and goes to London. What could go wrong? What Viola didn't account for was falling for her cute roommate and having to deal's with her brother's psycho ex-girlfriend. She also has to work much harder to keep up with the boy's football team. Will she be able to prove to her ex and her old school that girls can play football too. This film is laugh out loud funny with some unique lines, it will make you sigh and cringe for the heroine Viola, played by Amanda Bynes at the height of her career. Also starring are Channing Tatum (Magic Mike) as her roommate, Vinnie Jones (Snatch), Laura Ramsey (The Ruins), Julie Hagerty (Just Friends) and Robert Hoffman (Step Up 2). Overall I rate this She's The Man 5/5.
5. It's a Boy Girl Thing (2006)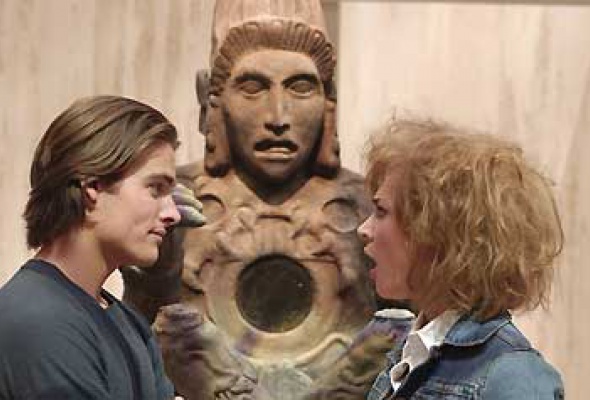 A classic enemies to lovers story, this teen movie has a rather unusual twist. Nell and Woody have nothing in common except their loathing for each other. She is a clever, hardworking, poetry loving academic with Yale University in her sights and Woody is lazy and rude and his place at a bog standard college is resting on his football skills. They also happen to be neighbours. On a school trip to a museum, a mysterious statue casts a spell on them and the next morning, they wake up in each others bodies. At first, they both see this as a chance to mess with the others' life but they soon figure that to achieve their college dreams they have to work together. This film really highlights the (stereotypical) differences between boys and girls and it had a lot of heart. Physical comedy and costumes were also very important in this film. Also starring are Sherry Miller (Sabrina The Teenage Witch), Robert Joy (Sweet November), Sharon Osbourne (X Factor) and Maury Chaykin (Dances with Wolves). Overall I give It's A Boy Girl Thing 3.5/5.
6. We're the Millers (2013)
This comedy always makes me laugh out loud but be warned there are some very dirty jokes and slight nudity so stay away if you are under 15. For those who are old enough, We're the Millers is a comedy about a man called Dave, who is a drug dealer (Jason Sudeikis) tasked with bringing a huge amount of weed back from Mexico and to do it he enlists the help of his neighbours to pretend to be his family. Rose (Jennifer Aniston) is a stripper who needs the money Dave is offering to go on this crazy road trip, Casey (Emma Roberts) is a runaway who has nowhere to go and Kenny (Will Poulter) is just plain weird. The 4 of them fly to Mexico and drive an RV back to the good ol' USA. Sounds simple but many mishaps befall them. They are chased by drug dealers, bitten by spiders and have to get through the week without losing their tempers. They start off doing it for the money but do they start to become the family they are pretending to be? With hilarious and very dirty jokes, this comedy will have everyone crying with laughter. Also starring are Kathryn Hahn (Bad Moms), Ed Helms (The Hangover), Nick Offerman (Parks and Recreation) and Molly C. Quinn (Castle).  Overall I give We're The Millers 5/5.
7. 17 Again (2009)
Zac Efron (High School Musical) stars as Mike, who had it all at 17, a beautiful girlfriend, a great friend Ned, a promising future playing basketball. Until his career away when his girlfriend became pregnant. At 37, his life has gone down hill, his wife Scarlet wants a divorce, he is living with Ned, who since high school became uber rich (but still a nerd), his son Alex is bullied and his daughter Maggie is dating a jerk. He gets a chance to fix his life though when he falls through a time vortex and emerges looking how he did when he was 17. He goes back to high school to help his kids but is the person he really need to help himself? Also starring are Matthew Perry (The Whole Nine Yards) as Mike aged 37, Leslie Mann (Knocked Up) as his wife, Thomas Lennon (Night at the Museum) as Ned, Michelle Trachtenberg (Buffy the Vampire Slayer) as Maggie and Sterling Knight (Starstruck) as Alex. This film has its funny moments and cringey ones but essentially it is about a man trying to get his old life back whilst looking like he did at 17. Overall I give 17 Again 3/5.
8. The Breakfast Club (1985)
This film is an 80's teen classic and also one for people aged 15 or over. The film is about 5 teens who get all day detention on a Saturday. They don't really know each other as they are all from different walks of life. They all slowly start to become closer and rebel against their horrible teacher Mr. Vernon (Paul Gleason). They realise that they have more in common with the others than everyone thinks. Directed by John Hughes, who has a reputation for making great 80's teen movie like Sixteen Candles (1984) and led by an all star cast, The Breakfast Club has become a must see for anyone who has been to high school and knows what it is like to try and find your gang. Starring Emilio Estevez (The Way) as Andrew 'The Jock', Molly Ringwald (Sixteen Candles) as Claire 'The Princess', Anthony Michael Hall (The Dark Knight) as Brian 'The Brain', Ally Sheedy (Short Circuit) as Allison 'The Basket Case' and Judd Nelson (St. Elmo's Fire) as John Bender 'The Criminal'. This film is as funny as it is it poignant and the script really resonates with you. It is also fun and it makes you want to be part of The Breakfast Club. Overall I give The Breakfast Club 5/5.
9. Did You Hear About the Morgans? (2009)
This film has a more unusual plot but the same Hollywood script is still there. A separated couple who both have very high profile jobs in New York City. They become witnesses to a murder and to go into witness protection. As they are still legally married they are sent to the same place, Ray, Wyoming. A very small town where people live like they are in a western from the 1950s. Paul and Meryl have to learn to live with each other after he cheated and they are stuck in the same house. They also have to learn how to shoot, ride a horse and avoid bears. Starring Hugh Grant (About a Boy) as Paul and Sarah Jessica Parker (Sex and the City) as Meryl, this film is great for believing in love again and perfect for a sleepover. Be prepared for laughs and the odd sad moment. Also starring Elizabeth Moss (Mad Men), Michael Kelly (Changeling), Sam Elliott (Hulk) and Mary Steenburger (Back to the Future Part III) this is a simple little rom-com designed to warm your heart. It's downside is that it is a bit unbelievable at times. Overall I give Did You Hear About the Morgans? 3/5.
10. The Switch (2010)
Jason Bateman and Jennifer Aniston star in this hilarious comedy. Jennifer plays Kassie a woman who decides she wants to have a baby – even though she hasn't got a man. She decides to use a sperm donor. Her friend Wally (Bateman) supports her decision even though he is against it – because he is secretly in love with her. At her insemination party, Wally gets very drunk and spills the sperm sample. He then switches it for his. He was so drunk he doesn't realise what he did. Kassie moves away but comes back 7 years later with her son, Sebastian. The sperm donor is now divorced and looking to get together with Kassie. Wally whilst looking after Sebastian can't help noticing the similarities between himself and Kassie's son. This laugh out loud comedy is great for anyone 12 and upwards. You will route for Wally long before he admits he in love with Kassie. A stellar supporting cast of Jeff Goldblum (Jurassic Park), Patrick Wilson (The Conjuring), Juliette Lewis (Natural Born Killers), Thomas Robinson (Tomorrowland: A World Beyond) and Bryce Robinson (Marley & Me). A classic rom-com and the child actor is amazing, overall I give The Switch 5/5.
These are the films I think would be great for a girly sleepover, feel free to leave a comment suggesting any others you like to watch on a sleepover.
Happy Watching,
Robyn